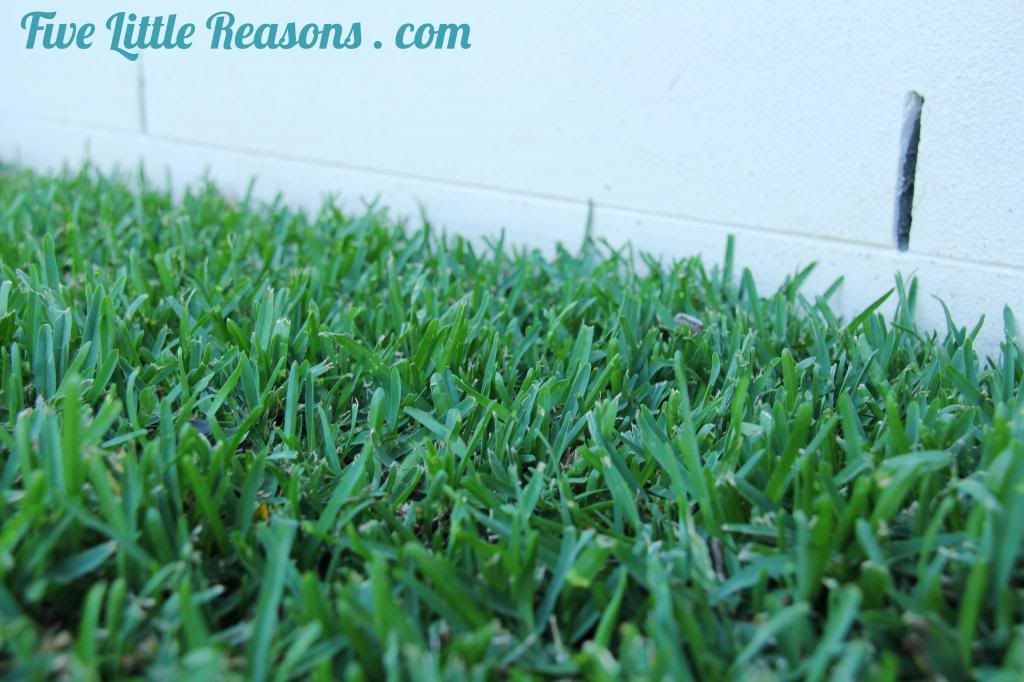 There is something uniquely iconic about the suburban Australian yard. That comforting feeling of luscious, green, velvety grass under your feet. The Hills hoist spinning in the breeze. The buzz of the Victa two-stroke as it weaves its way over the green tips. The rainbow appearing magically through the glistening spray of the sprinkler as the kids jump and dance around it.
As house blocks continue to shrink and the population increases, it has never been more important to have our own little patch of paradise in suburbia. Apart from looking great, natural turf has a number of other benefits. Natural turf;
-
Increases the property value
Most importantly, as we become ever more environmentally aware, natural lawns control air pollution and retain carbon emissions by capturing carbon in the soil. All the more reason to build yourself that rich, green, suburban oasis.
Unfortunately for us however, our piece of suburbia was less like an oasis and more like an African savannah, without the wildlife. Dry, dusty patches intertwined with the remnants of a once great grassy paradise. We needed something new. We needed something that would suit us and that we could look after. We needed help.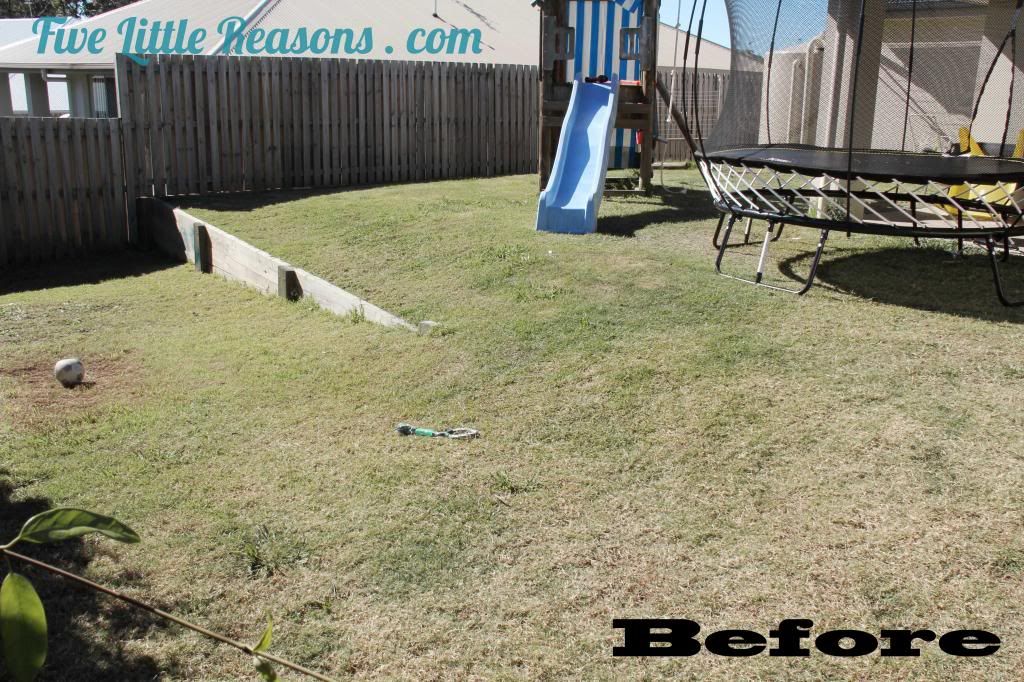 Fortunately for us, help was at hand.
Turf Australia
came to our rescue.
Step one: A free, no-obligation, in-home (on-lawn) assessment of our situation. Turf Australia sent out a local grower and
John from Lawn Concepts
was to be our guide through this journey. He would be there to hold our hands as we transformed our poor excuse for a lawn into a perfect patch of green. The first thing we learnt was just how little we knew. Thankfully the experts were on hand.
Our existing lawn was a lost cause, which was a no-brainer. John went through with us the exact reasons why our grass had lost its grassiness, where it had failed us and we had failed it. All this in a language that we could understand, free of horticultural mumbo jumbo. Our current lawn existed now only as an example of what not to do. It would have to go, and a new, improved, tailor-made lawn would take its place.
Step two: Choosing our new turf. This was where John's extensive knowledge really came in handy. You see folks, gone are the days when turf was just turf. Today there is a large range of turf types, all possessing their own sets of qualities. Some of these particular characteristics include;
-
Tolerance to heat or cold
-
Fine, medium or coarse texture
Using these factors and others gives you the luxury of being able to select the turf that is just right for you, your lifestyle and your environment. There is also the option of blending 2 types of turf if you are unsure which type would suit an area best. Over time, the best-suited turf will take over. Nature will make the decision for you!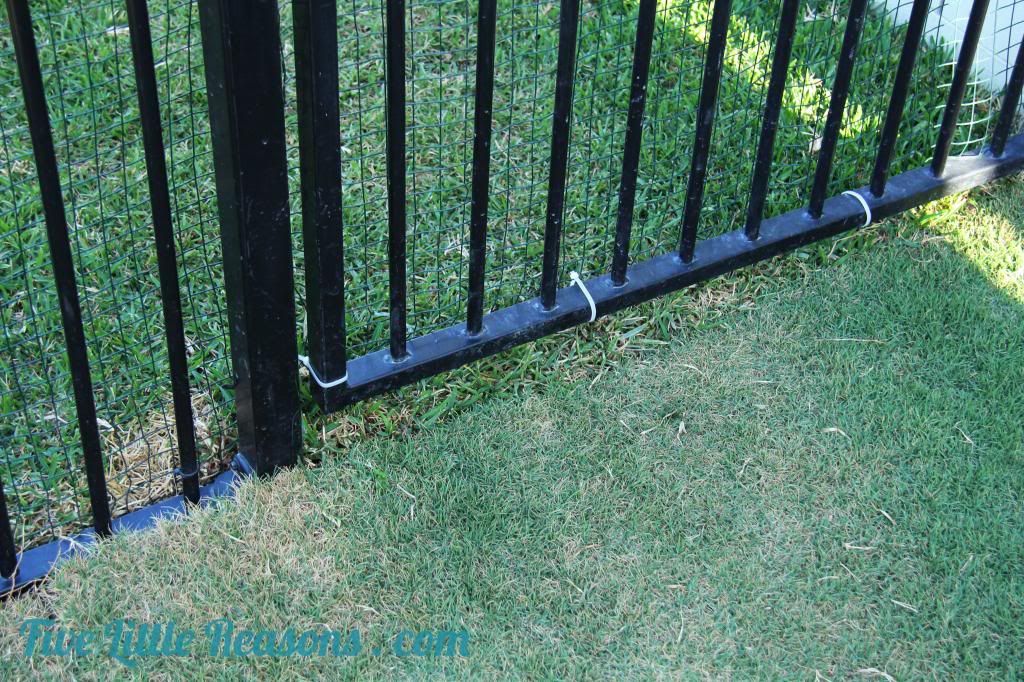 Using boundary lines to break up the different varieties of Turf.

We have Blue Couch out the back as it is more hardy for the high traffic of the kids.
And Buffalo out the front as it is more shade tolerant.
We chose two different types that were most suited to the different areas of our yard. Obviously the higher traffic areas, such as our backyard, needed a turf that could withstand the forces of 5 very active children. Our kids are essentially outdoor kids, and our backyard with its fort, swings and trampoline is a hive of activity pretty much every day. We selected a Blue Couch, it could handle the wear and tear, require little maintenance while still maintaining a lush, green appearance.
For our front yard we decided we needed something tough, easy for us to look after but with a more luxurious look, something that would make the neighbours 'green' with envy. The legendary Sir Walter would fit those needs perfectly.
John suggested we lay a mix of turf in certain sections of our backyard, some which would thrive in the sunnier or shadier parts of our yard. This would help us make the most of our space and give the lawn as a whole a better chance of blossoming. With John's help, we had designed our ideal lawn, front and back. He then did the measuring to work out just how much of each type we needed.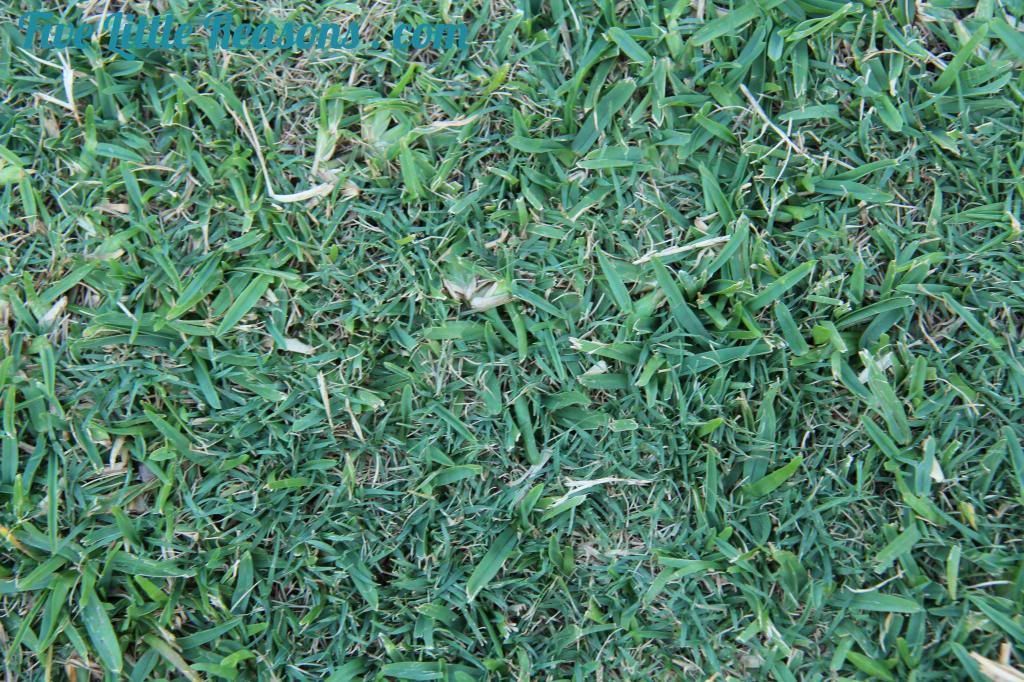 Did you know you can mix your turfs? In certain areas of our backyard, we laid a Couch/Buffalo mix. This is perfect for areas that need a mix of hardiness and shade resistants.
There was a renewed freshness that took over the house, inside and out. The air smelled crisp and clear. We stood for a while, soaking it in. And yes, feeling that cool, fresh feeling under our feet.
Now that we have perfect patch of green, its up to us to look after it and give it the best chance to thrive. Thankfully, John gave us all the info we needed. Basically a lawn needs just three things to survive; Sun, water and Fertilizer. As long as we gave it the right amount of water and the right amount of the correct fertilizer, Mother Nature would take care of the rest for us.
As we look out over our luscious green lawn, we can say with confidence that the grass is now greener on
our
side of the fence.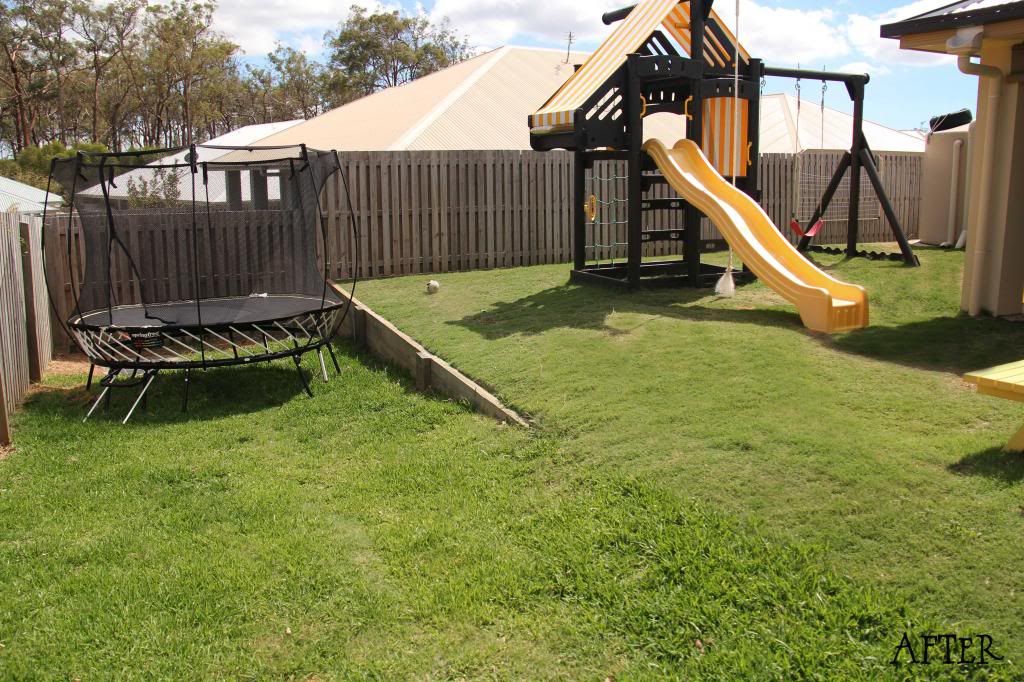 Can you see the two different varieties of turf?
Blue Couch on the right - high traffic area; Buffalo on the left as this part of the yard is in shade for most of the day.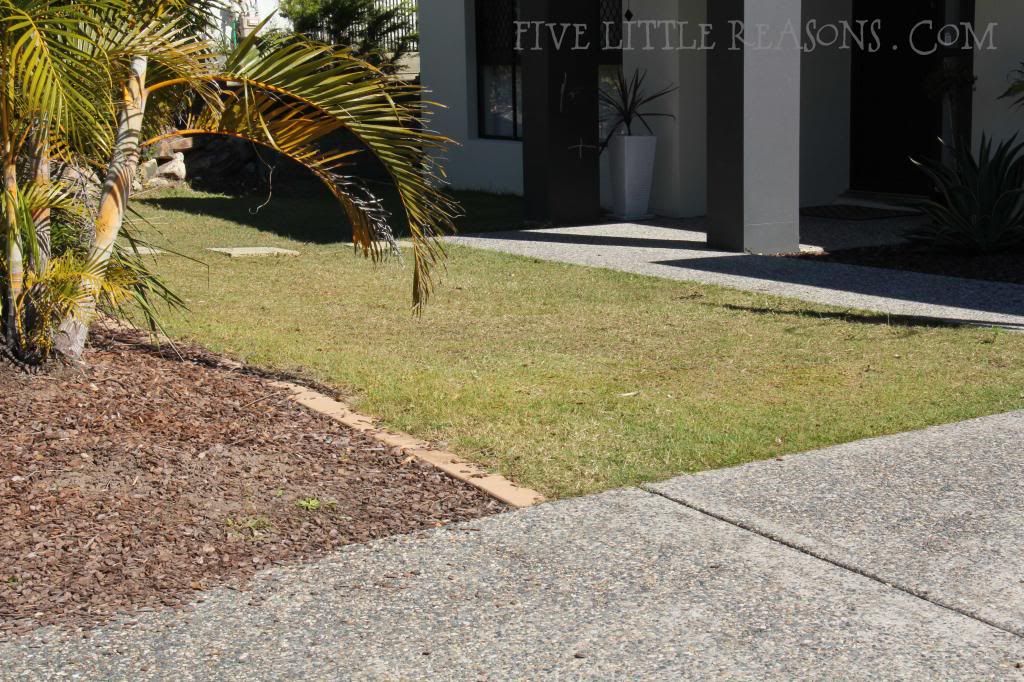 BEFORE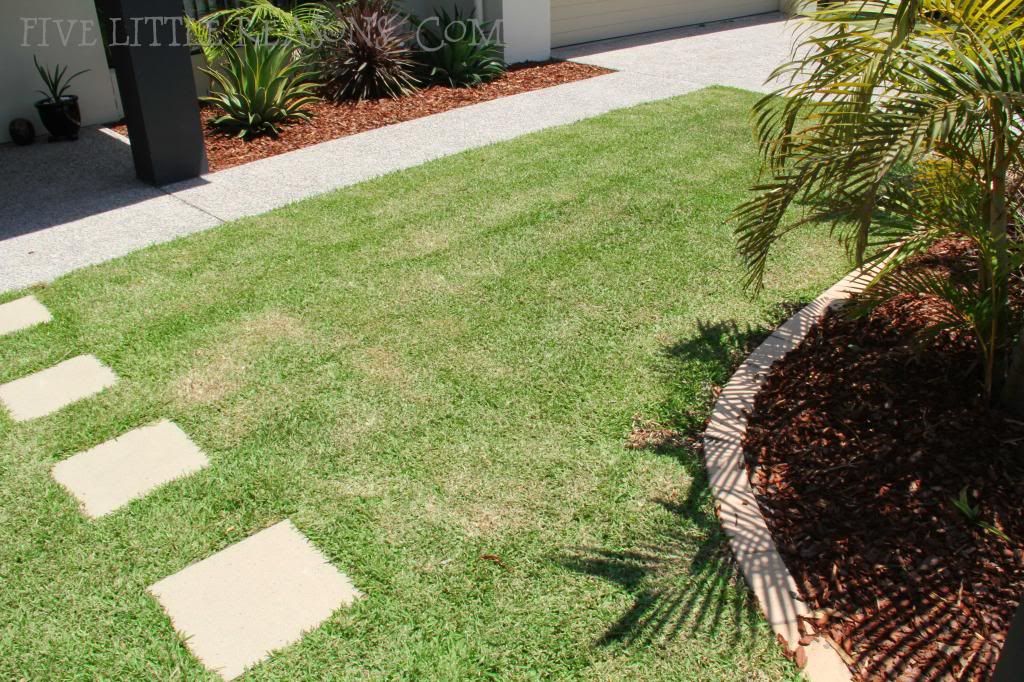 AFTER
And thanks to
Turf Australia
- we have a special prize pack for one lucky reader to help you start your very own backyard makeover.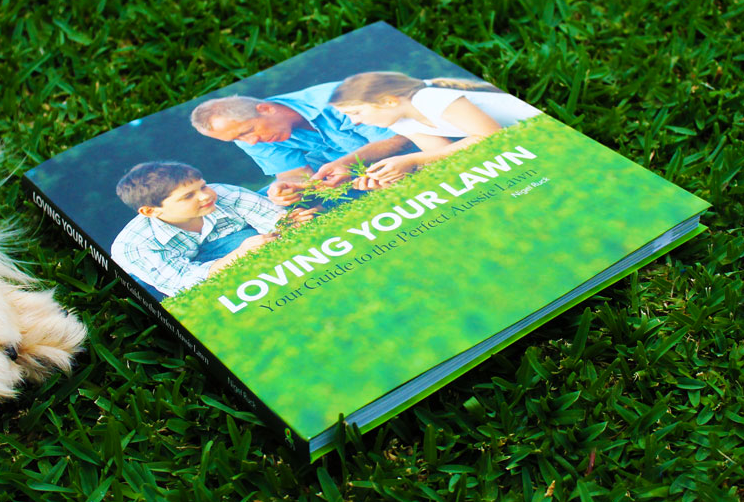 Prize Pack includes a copy of "Loving Your Lawn" by Nigel Ruck AND $100 gift voucher to Bunnings to get your backyard makeover started.
All you have you do is leave a comment telling me in 25 words or less why your backyard needs a makeover!
Terms and Conditions:
1. One entry per person allowed.
2. To enter, simply
comment on this page in 25 words or less "Why Your Backyard Needs a Makeover"
3. Include your email address or a link to your website where I can comment or find your email address.
4. This competition is open to Australian entrants only.
5. This competition is hosted by Danielle via the FiveLittleReasons blog at fivelittlereasons.com.
6. The prize consists of a copy of Nigel Rucks "Loving Your Lawn"
RRP AUD$29.95 and a $100 Gift Card for Bunnings Australia. Postage included. Total prize value $129.90.
7. Competition opens 9:00pm Wednesday 4th December 2013 and closes 11:59pm Friday 21tst December 2013 AEST.
8. This competition is a game of skill and the winner will be based on the most interesting comment as judged by the FiveLittleReasons team, and notified by email and via a post on FiveLittleReasons on Sunday 22nd December 2013.
9. Winner must contact fivelittlereasons.com within 7 days of competition closing or we will redraw.
10. Winner will be posted their prize to an australian address within 2 weeks of Competition closing
.